We are looking for fisheries folks, more students, and young professionals from the Mid-Canada region (Northwest Territories, Nunavut, Manitoba, Saskatchewan, Alberta) that are interested in playing a role in the rebuilding of the MCC.
The MCC holds annual elections every September. Please email the Secretary if you wish to nominate a colleague or to express your interest in a position.
Interim Executive Committee 2017-2018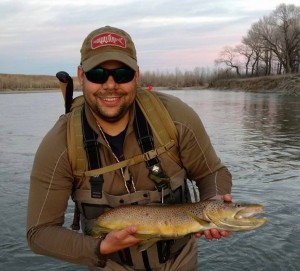 President: Paul Harper ([email protected])
Occupation: Senior Fisheries Biologist – Stantec Consulting Ltd.; Instructor – Lethbridge College; Graduate Student – University of Lethbridge
Location: Lethbridge, Alberta
Background: Paul graduated from the University of Lethbridge in 2001 and travelled to Alaska to work with wildlife species on the North Slope. Following the realization that he was not suited for long hours in small planes doing aerial surveys, Paul moved back to southern Alberta where he has worked with fisheries for the Alberta government, Fisheries and Oceans Canada, and as a consultant, now with Stantec. Paul focuses his efforts on salmonid habitat and has worked across Canada. In between teaching and working at Stantec, Paul is working on a graduate degree focusing on Bull Trout at the University of Lethbridge with Dr. Joseph Rasmussen and Dr. Andreas Luek.
Credentials and Affiliations:  Lethbridge Community College – Diploma, Renewable Resources Management, specialization in Fish and Wildlife Technology; U of L – B.Sc. Environmental Science; Trout Unlimited Canada, Oldman River Chapter – Member, Volunteer, & past-executive; Wild Trout Symposium – Publicity Chair.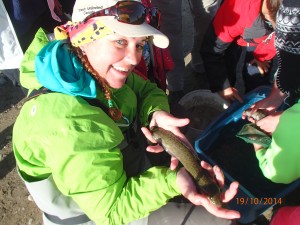 Vice President: Shona Derlukewich
Occupation: University of Alberta- Undergraduate Student, Conservation Biology;  School of Fish- Technical Instructor
Location: Edmonton, Alberta
Background: Fisheries technologist with 10 years experience in fisheries research and aquatic environmental assessments of water resources, mining, oil and gas exploration, and linear development projects. I provided services including fish and fish habitat inventories, water quality assessments, construction monitoring recommendations, and analysis and reporting of field investigations. Further responsibilities have included project management, fisheries discipline lead for environmental assessments, technical writing in fisheries, and coordinator/instructor for fish identification workshops.
Credentials and Affiliations:  Northern Alberta Institute of Technology – Diploma, Renewable Resources ; American Fisheries Society- VP MCC; CARS member; Alberta Society of Professional Biologists – Fish Identification Instructor; Trout Unlimited Canada – Volunteer & Fish Identification Instructor; City of Edmonton – Master Naturalist Volunteer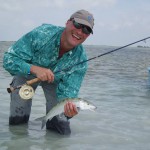 Past-President (2011-2014): Tom Boag, Calgary, AlbertaBackground: Tom Boag graduated from the University of Victoria (B.Sc. 1986) and University of Alberta (M.Sc., 1989)  where he worked in Dr. W.C. Mackay's lab on aspects of environmental physiology of burbot.  Tom has worked with fish populations and their habitat since the summer of 1982 and has consulted full time since 1990.  Tom founded Applied Aquatic Research Ltd. In 1996 and since then has trained, mentored and worked with 275 fishy types.  As a senior biologist, Mr. Boag has managed and participated in countless projects relating to rivers, reservoirs and lakes and the fauna that live in them throughout Alberta, British Columbia, Saskatchewan, Manitoba, the Canadian Arctic, Argentina, Chile, Bolivia and Costa Rica.  He provides clients with project management, literature review, study design, data collection and analysis, strategic planning, advice, reporting, senior review and oversight, and has testified as an expert witness.  Tom is a keen motorcyclist, fly fisherman, classical guitarist, artist, hunter, husband of 12 years to Michele, father of two girls Nikki and Sammi (aged 10.95 and 9.45) and keeper of "Figit", a 3 yr old female, Portuguese Water dog.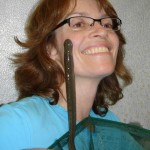 Secretary & Treasurer: Margaret Docker, Winnipeg
Margaret.DockerATad.umanitoba.ca
Margaret Docker is an Associate Professor in the Department of Biological Sciences at the University
of Manitoba. She completed her PhD at the University of Guelph under the supervision of Dr. F.W.H.
Beamish. Although she has worked on lampreys (e.g., their evolution, systematics, and conservation
genetics) for over 25 years, she thinks that all fish are pretty cool. She has been Secretary-Treasurer
of the MCC since 2009, and is particularly interested in getting more students and young professionals involved in the MCC.
---
Past Executive Committee 2011-2012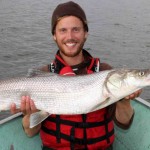 Vice President (2011-2012): Ben Kissinger, Winnipeg benckissingerATgmail.com
Currently, Ben is a graduate student in the Department of Biological Sciences at the University of Manitoba (U of M) under Dr. Jim Reist (DFO) and Dr. Gary Anderson (Dept. of Bio. Sci. U of M). He completed his B.Sc. at the University of Wisconsin Stevens Point in Fisheries and Water Resources with a Minor: Biology. He has spent the past 6 years working in jobs associated with fisheries management and research in Wisconsin, Oregon, Washington, Minnesota, Alaska, New York, and currently the Northwest Territories. Ben has experience working with numerous North American freshwater and anadromous species and has assisted in a variety of surveys with state, federal, academic and private fisheries affiliates. His current research looks at the effects of salinity on lake trout habitat use, genetics, physiology, and growth in Arctic estuarine habitats (Mackenzie Delta and Husky Lakes) entering the Beaufort Sea, NT. Ben has been a member of AFS since 2008 and was active in the University of Wisconsin-Stevens Point- Sub Chapter.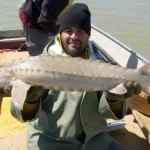 Newsletter Editor (2011-2012): Patrick Nelson, Winnipeg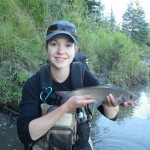 Webmaster (2011-2012): Jessica Reilly, Edmonton
jrreillyATualberta.ca
After receiving a technical diploma (NAIT) and B.Sc. (UVic), Jessica worked as a Fisheries Biologist/Technician for Golder Associates and the Alberta Conservation Association. She has instructed several courses at NAIT, including Parks Management and Fisheries Field Techniques. She is currently completing a M.Sc. at the University of Alberta on the conservation genetics of Arctic grayling. Jessica spends most of her free time fly-fishing, ATVing, and camping with her husband. When the streams are frozen over, Jessica likes to write music, XC ski, and train her dog, a Brittany spaniel named Chewie.